Annual Appeal gradient header
Catholic Ministries Annual Appeal
The Catholic Ministries Annual Appeal (CMAA) is our annual fundraising campaign that supports the ministries, agencies, programs and schools that serve the spiritual, physical and educational needs of the people of the Diocese of Joliet.
Annual Appeal - Main content
Our donors help ensure the works of the Lord can continue to be made possible throughout our diocese. It's through gifts to the CMAA that our diocesan-wide ministries help feed and shelter the homeless, educate seminarians, teach our faith to children and adults through catholic schools and religious education programs, and more.
Every gift—large and small—is appreciated and will help us to meet our goal. We encourage you to watch our testimonials and witness how your gifts will bless our ministries. Thank you to the many people who have demonstrated to those in need that we all belong to God through their gifts to the 2023 Catholic Ministries Annual Appeal (CMAA).
---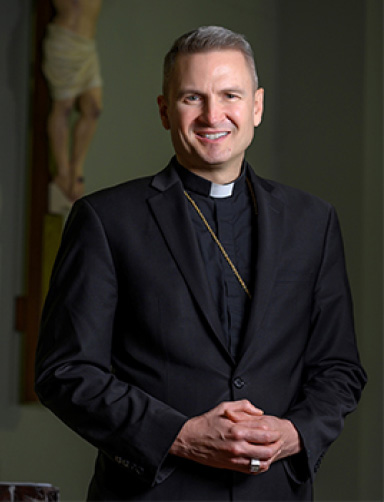 A Reflection from Bishop Hicks
Dear Brothers and Sisters in Christ,
In his first Letter to the Corinthians, St. Paul tells us, "… all belong to you, and you to Christ, and Christ to God" (1 Cor 3:22-23).
After much reflection on this passage, I believe St. Paul is essentially saying, "We belong to God!" Not only does this perfectly encapsulate the baptized missionary disciples of the Diocese of Joliet, but also how we choose to live out the Gospel through our support of the Catholic Ministries Annual Appeal (CMAA).
When we give to the CMAA, we not only show our love of God, but we also demonstrate and share God's love with our neighbors. Every day across the Diocese of Joliet, because of your generosity, we serve people in need through Catholic Charities, form the next generation of faithful in our Catholic schools and parishes, and educate the men who will serve as our priests.
Each of us is asked to prayerfully reflect on the love God has for us as well as Christ's Church. We are asked to put that love into action by caring for our neighbors. The stories and videos of individuals featured on our website pages demonstrate how gifts to the CMAA allow us to care for our neighbors.
I invite you to put your faith into action, with love, and make your pledge today.
Peace,
Most Reverend Ronald A. Hicks
Bishop of Joliet